Me and Matt went to his ward's nerd-themed opening social the other night. Matt looked awesome (I couldn't stop laughing when he came to the door to get me) and I most definitely sported the most amazing nerd glasses DI could provide. The festivities at the party included a group spelling bee, a math and klingon-speaking relay, Dance Dance Revolution, a twinkie eating contest and sack lunches featuring cheese and crackers, fruit cups and chocolate pudding. I tell you what, no matter what you're doing at a nerd party, it's always funnier. Even just people doing normal things (eating, dancing, whatever) was funnier because they were dressed as nerds. Really...it was a lot of fun. Here are some photos for your viewing pleasure.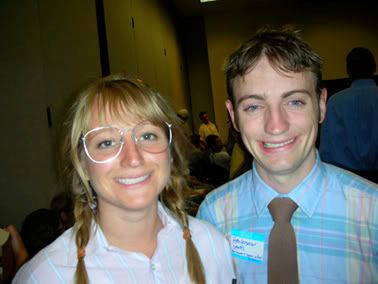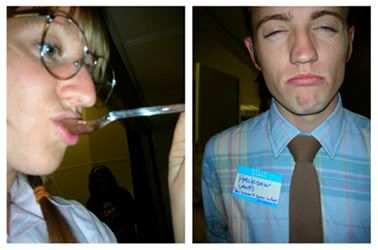 Busting out the chocolate pudding and Matt with what he informed me is his "mad face"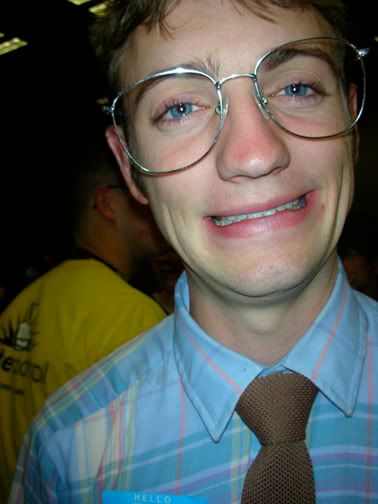 Matt looked awesome in my glasses. How could I not love that face?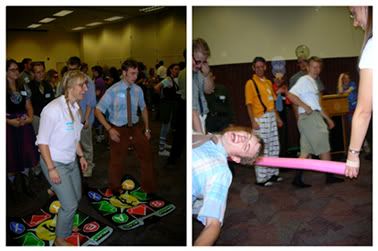 A bit of DDR on the left and to the right Matt demonstrating that he is the limbo king. Seriously. And, as you can see in the photo, he usually puts himself through a lot of pain to keep that title.