My brother and his awesome wife Chele
(Chay-lee)
didn't disappoint in providing an excellent Holiday, once again, this year. Seattle Thanksgiving came about as I was debating where I would spend the holiday. My brother called amid my vacillating and won me over with the line "You'll break tradition if you don't come, dude!" As it has it, spending Thanksgiving in Seattle the previous year had started a tradition, so, not to disrupt the long-standing behavior, I went to Seattle for the holiday. It was an excellent choice.
I selected two themes that adjectify the three-day trip...
#1:
nontraditional
.
#2:
awesomely family-erific
Trip highlights included a drive along Lake Washington, a visit to Kite park, Thanksgiving breakfast at the TV-acclaimed and sister-recommended Top Pot Donuts (it's a palindrome just in case you didn't notice), guitar time with my brother Andy, an enchilada feast for Thanksgiving dinner, bonding with my sweet niece and nephew, and a delightful lunch with my dear friend
Bonnie
who's living in Seattle right now.
Here's the recap/representation in picture form: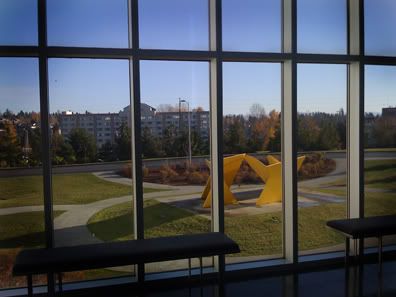 This is the view from inside the Seattle airport. My first glance out the window yielded a view of no less than 150 ever green trees at the same time. So rich.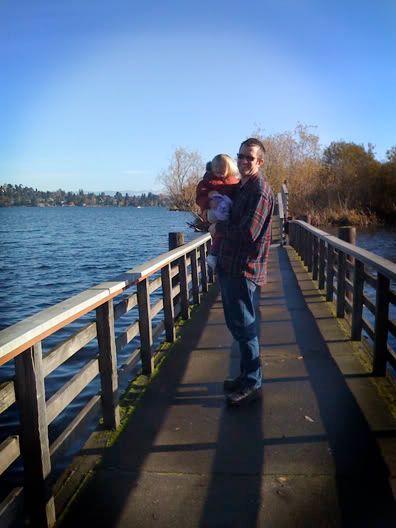 My brother and niece at a small bridge over Lake Washington the morning I drove in. Not the best picture of my niece or my brother, but it captures the moment. We had stopped for a second on our way home to walk around and take in the fresh, Seattle air.
Thanksgiving breakfast at Top Pot donuts. This place came highly recommended from my sister Tracey (despite her never having gone there), and it didn't disappoint. This photo is of my brother ordering a dozen. It's a pretty poshy place, I'll tell you what. It feels like a high-end coffee shop inside; stacked with book shelves, dark-wood floors and beautiful-looking donuts.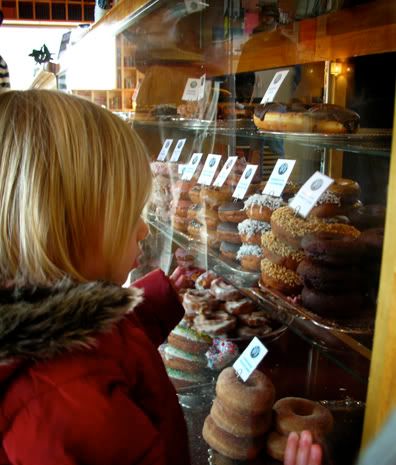 My niece Anza admiring said beautiful Top Pot donuts.
Me, Chele and Anza in front of Top Pot. The family that eats donuts together stays together.
They weren't so beautiful after we cut them into pieces so we could try each one, but they were still delicious :)
The non-traditional, but definitely yummy Thanksgiving-dinner enchiladas. Low hassle, high enjoyment -- thanks Che :)
My cute niece Anza eating a pear. The photo is blurry (as were a lot from this trip -- sad), but check out those blue eyes, huh?
My nephew Mojave. Again, the photo is admittedly blurry, but I couldn't bring myself to post any of the more-clear ones; this one just captured his happiness so well, in or out of focus. (He looks kind of like a baby drone in the other ones I took, and that's just simply not a fair representation of this happy little guy.)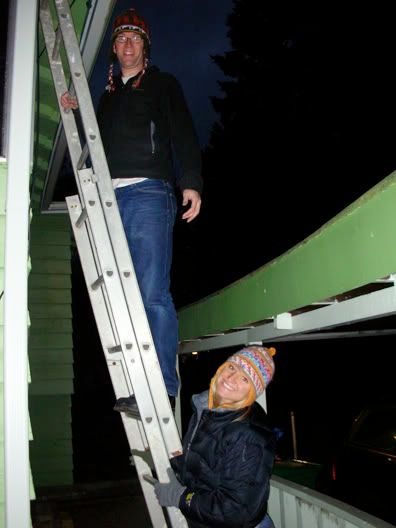 Hanging Christmas lights in matching hats with my brother. Another tradition continued -- we did this last year too, but I'm not 100% positive the matching hats were involved last year.
Mojave and my niece's doll, Daisy, playing with the blocks together.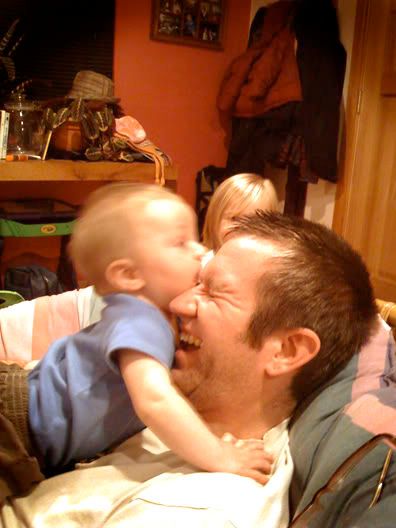 My nephew Mojave licking my brother's eye -- Andy could not stop laughing. Slobbery eye. ick :)
My brother Andy during our evening of guitar (I tried to upload a video, but the format is wrong. lame.) We played his electric for the night. My brother rocks it at guitar, no doubt about it, but can I just tell you that my playing the electric guitar made me feel automatically 100% better at the guitar than I actually am? I'm not sure why, but man...electrics just have something to them that sounds great...
During lunch time with my friend Bonnie, we stopped into Anthropologie (over in the University Village in Downtown Seattle) only to discover the SADDEST succulent I have seen in my entire life. This was Bonnie trying to make a sad face to match the plant's attitude.
My parting look right before my brother and family dropped me off at the airport for my morning flight home on Saturday. This is my cute little niece, Anza, in her pink, footsy leopard pajamas eating a morning nectarine. Priceless.