I think quilts are quite beautiful. They carry a nostalgic charm that, unlike most things, looks better with age. And the amount of tedious work they represent really gives me a respect for all those people who undergo the task of making one.
Last Christmas my mom gave me a prized, hand-stitched quilt that she had finally finished after, honestly, at least 10 years of being in the making. Not that she worked on it slowly for the entire ten years (a lot of the time it sat half-made in our attic in Huntington), but I remember it always being this ongoing project on my mom's list of things to do. When she finally completed it last December, she gave it to me as a Christmas present and I was seriously overwhelmed with excitement, gratitude and heart-felt sincerity. It was one of the most beautiful and touching gifts I think I will ever receive. Now, it sits on the love sac in my loft, and it proves to be one of my favorite ownings (especially on cold saturday ornings when I curl up with a book). Thanks, mom.
Here are some photos I scouted out on the internet of quilts I enjoy. I will add a photo of the quilt I got from my mom when I get home, seeing as, surprisingly, I don't have a photo of it with me at work :)
A Hawaiian pattern -- so beautiful.
How can you not love how classy and cozy this looks?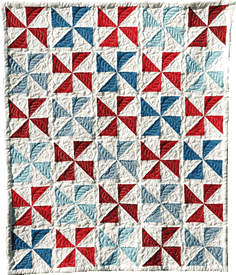 Mini pinwheel pattern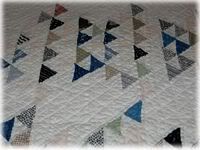 The flying geese pattern is one of my favorites