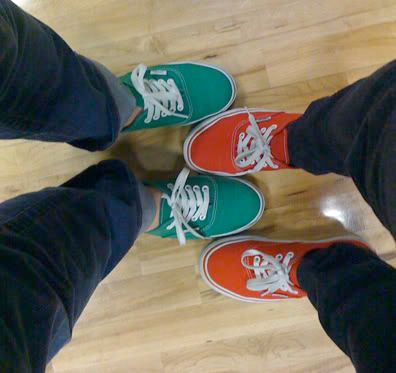 (this photo was taken at my ward Christmas party the week before I left for the holiday. Can't resist capturing festive footwear. Nicki=green vans, Janelle=red vans)
In this instance, lovies=loved ones. And my holiday was awesome.
The vacation started with 6 days in Colorado with my family (only my brother, his wife and their children excluded since they were in Seattle) and ended with approximately 24 fun-packed hours at my friend Douglas' cabin right outside of Oakley, UT (it northeast of Park City ish I think).
Holiday One: Christmas in Colorado
Normally, 6 days with my family would be a lot. I don't think I'd spent a contiguous 6 days with them for at least three years previous to this holiday. But can I just tell you, it was wonderful? 144 hours filled with Christmas-package deliveries, singing in the church choir, having/making family dinner and treats, watching movies with my mom, snowboarding with my niece, playing games, having Christmas and doing puzzles. Just good, old-fashioned family fun.
This Christmas in Colorado came with two unexpected discoveries.
Unexpected discovery #1
:
My family has A LOT of fun without me. I didn't know it was possible, but it's true. I think it has something to do with them all living within 20 miles of each other. Things like family dinners and game nights and outings all take place without me on a regular basis. So sad. But, in all fairness, they do occasionally call to invite me, and I get messages like this "Hey Nicki! Dad's making chili for family dinner! Come on over at 6." Tender of them. Impossible, but tender.
Unexpected discovery #2
:
My 15-year-old niece, Megan, can choose presents for me incredibly well. Maybe even the best in my family. Awesome present no.1 was a delightful dish towel from Anthropologie, which I can't seem to find online, but trust me, it was charming. Awesome present no.2 was a snap-closure wallet with a playful floraly print. Perfect. Thanks Megany :)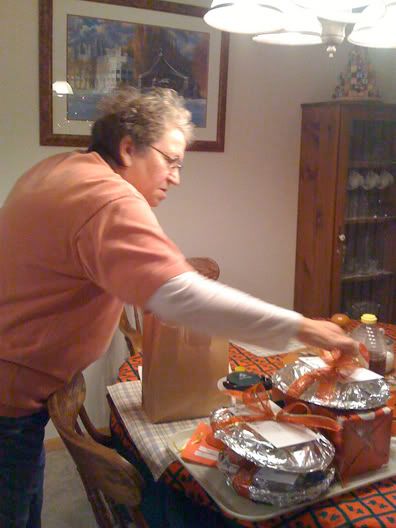 This is my sweet, honestly-the-most-selfless-person-I-know mom getting some Christmas packages ready to deliver to friends of hers. She is one very organized lady.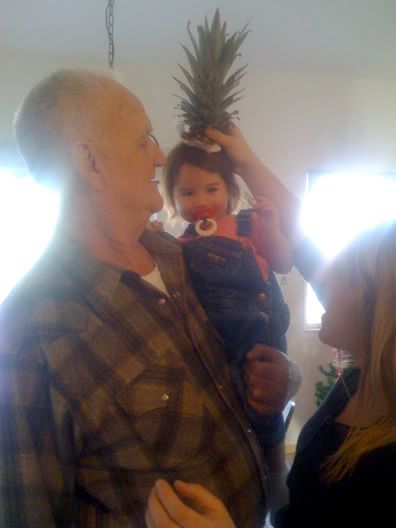 Me and my dad playing with my niece Honor after I sliced a pineapple. The first time I put the topper on her head she didn't like it, but I got her to smile the second time.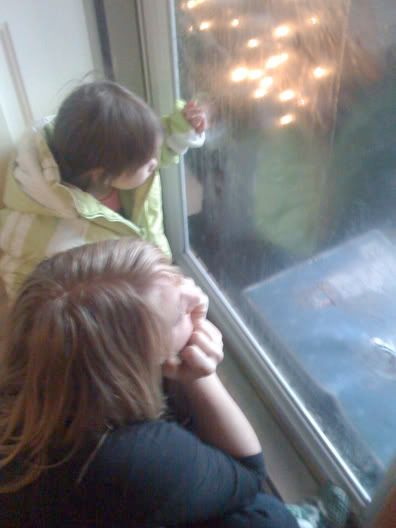 Me and my niece Honor watching while waiting for her mom to come pick her up after work. I really like this pic. Quality time at the front door.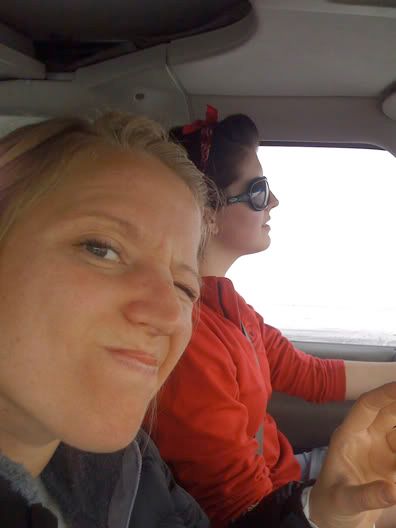 Me and my niece Jena driving on our way to go boarding (too bad I left my camera in the car so I didn't get any pictures on the mountain).
Road conditions on the way up=treacherous.
Nicki&Jena's steely will and perseverance through said shady road conditions=flawless.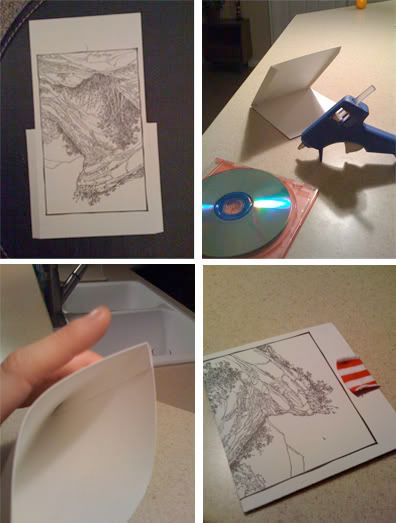 This was my favorite gift I gave this year -- a homemade CD (Original Nicki music with me singing and playing guitar) with a homemade CD sleeve. The process of making the sleeve is shown above. I gave it to my dad. I think I enjoyed making and giving it more than he actually enjoyed receiving it, but my favorite gift nonetheless. Probably because I liked the packaging best.
Holiday Two: 24 hours at Douglas' cabin
The morning after I got back from Colorado, I made my way out to Douglas' cabin. The cabin itself lies about 5 miles in from the nearest plowed road, so in the winter you can:
a) ride in on their sweet, fire-engine red snow cat
b) take a snowmobile in, or
c) use an alternative method that requires man power (snowshoeing, cross-country ski, etc)
In my instance, I had all intentions of cross-country skiing all 5 miles in to the cabin (the rest of the group had treked in the night before), but about three miles into it I got sick of cross country skiing and hitched a ride with a very nice man on a snowmobile. Best of both worlds huh?
The cabin was wonderfully cabiny. Snow shoeing, snow angel making, guitar playing, oragami, fireplace fireing, jumping off the cabin balcony into large amounts of powder and relaxing was enjoyed by all.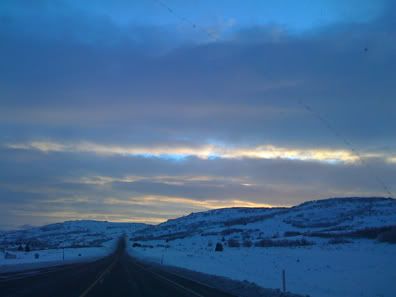 View during my drive to the cabin Saturday morning. It was way more pink than pictured, but, sadly, the
c
amera
c
ouldn't
c
orrectly
c
apture the
c
olor (yeah alliteration!)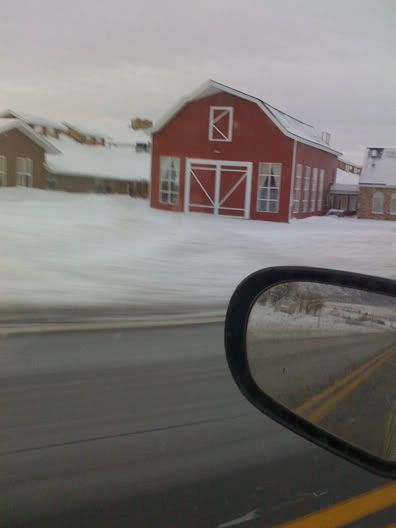 Another view on the drive. Little red barn in a small town. cute. NOTE: Have you ever seen large windows and curtains on a barn before?
Natalie, Megan and Brenna running downhill during our snowshoeing adventure. (
this and the rest of photos courtesy of the awesome Matt Cobabe
)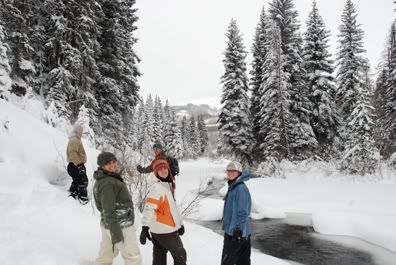 The rest of the snow shoeing group.
(
from left to right: Steve, Nicki, Katie, Douglas (and stickly tree) and Lisa
)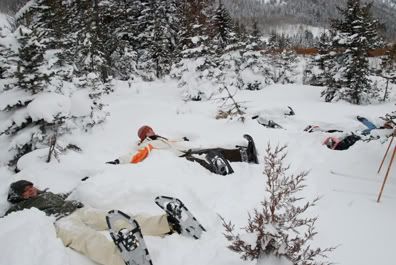 Taking a break to make snow angels on the trek.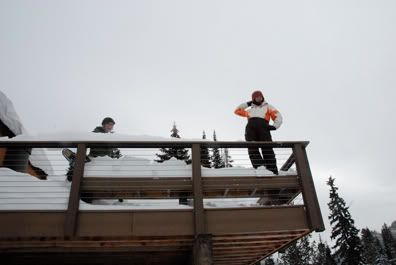 Me and Katie on Douglas' cabin balcony -- we jumped off of it into about 6 feet of powder.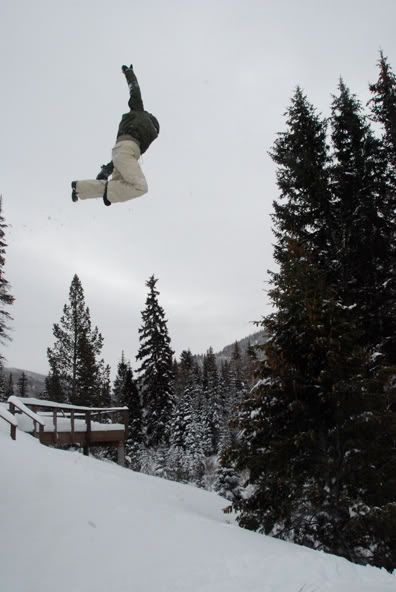 The jump.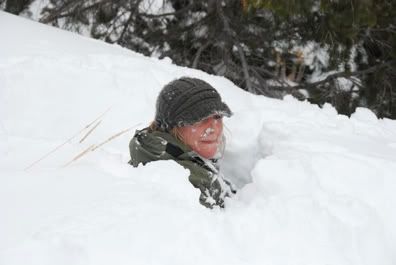 And the aftermath, including a face full of snow and a couple minutes of wiggling myself to the surface. My legs are definitely straight below me in this photo.