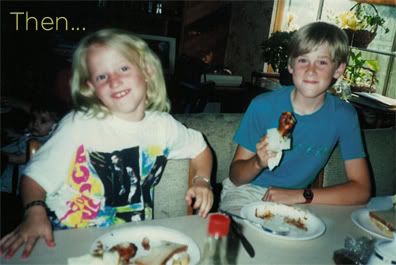 You may or may not know Drew (Barlow) Danburry, but nonetheless, he and I had a friendship hiatus that lasted far too long, and I am glad it's over.
When we were little, Drew's mom and my mom owned a business together (it was an LDS bookstore called "The Bookport" in Southern California). So, naturally, we ended up spending a fair amount of time together on road trips to Utah and apparently, as pictured above in the "then" picture, eating BBQ chicken at the house I grew up in. Sadly however, as life happens, we didn't really hang out past age 12.
So it was a treat to reunite with him a few weeks ago at a house show he came to play in Provo. Kind of funny (and great) to see where 15 years has gotten us. Drew has become an awesome musician, and probably one of the gentlest people I've known. The show he played was pleasantly rad and perfectly intimate; about 40 people seated on the living room floor of a house on 500 east, singing along to the choruses and echoing the "oooo"s of Drew songs. Super enjoyable. I wish I would have gotten pictures of the actual setting, but the "now" photo above will have to do for the memory of the evening. It was a delight for sure.