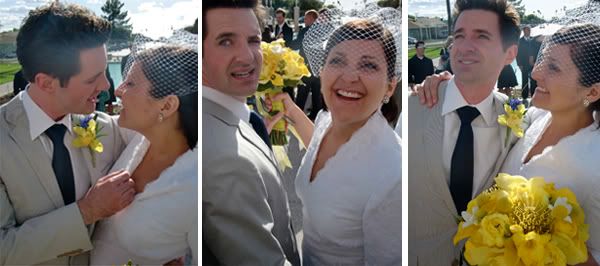 You may remember the lovely Erin Virginia Thornhill (now Reeder) from such previous blogposts as
See It And Weep
or
Making a Dress #1
. Well, four weeks ago she was married to one Mr. James Reeder, and I was lucky enough to attend the spectacular event.
Erin looked beautiful. James Reeder (who is a very nice man, I came to learn) looked beautiful. Mesa Arizona was beautiful. The hotel rooms Erin rented for the unbridesmaids/close friends that came into town for the wedding were beautiful. Everything was beautiful. It was a great 48 hours.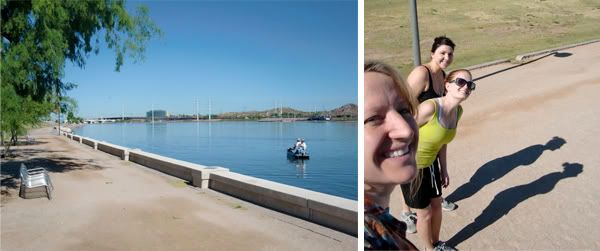 There were 12(?) girls in all who slept at the hotel Erin had gotten for all the ladies. We spent Erin's last night as a single woman in the hot tub, then we all went for a run/brisk walk along Tempe Town Lake the next morning (aka, the morning of the wedding).
Left:
Tempe Town Lake (of course)
Right:
Nicki, newly rediscovered friend Holly, and Jessica Harris taking our stroll along the lake, as pictured on the left.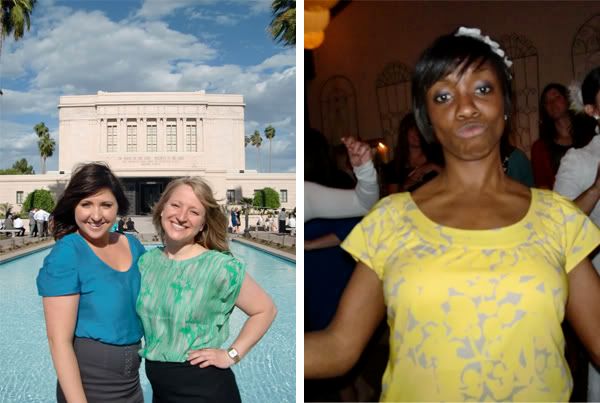 Left:
I shared a hotel room with the cuteness on my right, Jessica, my long-time friend and previous roommate. She was in from LA, and we met up at the airport on our way in. Jeez I love that girl. And can you believe that sky?! Hello beautiful AZ. Erin and James were married/sealed in the LDS Mesa Arizona Temple pictured behind us.
Right:
At the reception, Miss Sheryl Garner, a friend from BYU who came in from DC for the wedding, made this amazing face while we were all dancing to celebrate James and Erin' matrimony. Talk about a great moment to capture on digital film.
So happy to see that lovely Erin Virginia so supremely happy. And she sure knows how to throw a classy, rockin' party.
NOTE: This is the wedding that I printed the grey and yellow letterpress invites for, as can be seen in this post.