I have an incredible roommate named Erin who thinks it's easy to make and modify dress patterns based on dresses I already own. She executed these talents by making a super cute pattern based on one of my favorite, vintage dresses in my closet (it's the red, polka dottish one for anyone who may be really familiar with my wardrobe). And, for roomate bonding time earlier this month, we made dresses! It's my very first sewing project based on a pattern, and really it's the first piece of clothing I've ever made. It makes me feel less guilty for owning a sewing maching now that I have confidence that I can actually make things. Up until now I've just been a clothes mender. Erin and I decided that if we start a dress shop in some quaint, boutique-lined street, we're going to call it "Virginia Paige" -- it's a conglomorate of our two middle names (compliments of Erin and her naming brilliance).
Erin ironing her emerald/tinker-bell green fabric for her dress. I went with a brown, textured suiting fabric (as you can see below)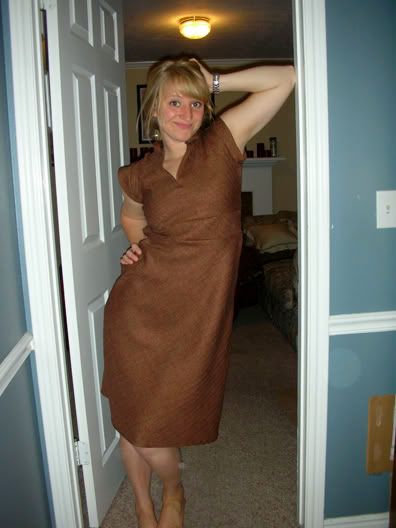 The finished product. I think I get more pleased with it as time goes on. The night I finished, I was like "Ehhh...not a huge fan." The day I wore it, I was like "Ahhh...it's OK." And now I'm to the "It's not too bad" stage.