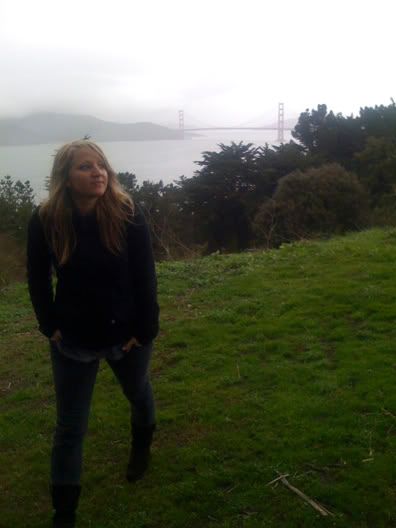 It's true. And I love San Francisco. I just might have to live there one day.
Two weekends ago I headed to SF for a quick, 48-hour holiday. The purpose of the trip was two fold. First, visit Kristin Kathleen Goodell (my long-time friend and former roommate) before she moves in India in January. Second, have a lot of fun. Trip successful. I arrived Friday night and left Sunday evening, and we packed a whole lot of awesome in between. It rained about 65% of the time, but I still found it intoxicatingly charming.
My favorite 5 minutes of the trip consisted of viewing the Golden Gate Bridge Saturday night from a look out just up the hill from Sausalito (a place I deemed the Balboa of the Bay area). The lookout was magnificently close to the bridge, making for a colossal view, meaning the bridge looked gigantic. Being at eye level with the towering parts of the bridge rather than looking up at them from down below is so much better.
The rest of the trip included a sneaky elevator trip in the glass elevators at the Westin St. Francis hotel in SF City Center, exploring the ruins of the
Sutro Baths
, a quick stop at the
Legion of Honor
, a jont down Lombard Street, a drive across the Golden Gate Bridge, dinner at the most lovely cafe in Sausalito, dessert at Ghirardelli Square, enjoying the noises of the
wave organ
, perusing Fisherman's Warf, attending church and climbing a giant rope pyramid in church attire before heading to the airport.
The accommodations. Kristin lives (well, lived up until a week ago) with a family in Berkley -- she rented the upstairs of their beautiful old home. It donned original wood floors, a footed bathtub, and a view of the Bay Bridge from the hallway window.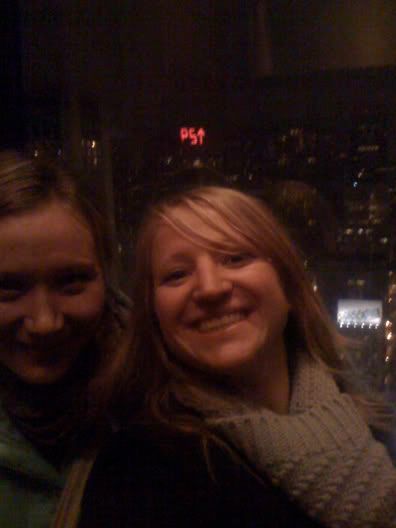 Admittedly a low-quality photo, but our only documentation of our stolen elevator ride at the Westin. We sought out said elevator ride because, if you are not familiar, the Westin elevators are glass and are located on the outside of the hotel, so you get a beautiful view of the city when you ride in them. Our elevator trip got postponed by a guard who demanded to see our room key before letting us pass to the elevators. We had no key, so we snuck our way up to a higher floor through a different part of the hotel, then took our elevator ride with pleasure. Breaking the rules always makes things more fun.
Also located in the Westin was this giant chateau made entirely of edible things; primarily sugar. I may be a bad sport, but I'm not sure I see the point in creating a giant castle out of sugar.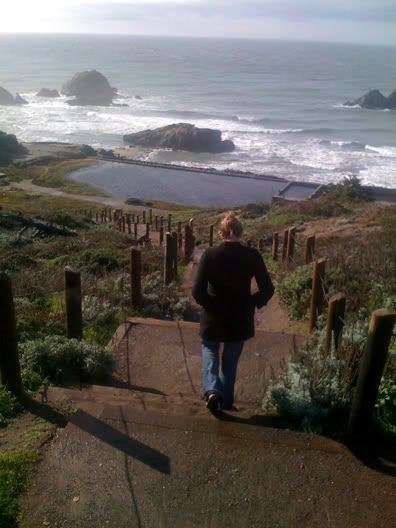 KKG as we head down the the Sutro Baths ruins. In 1881, the creator had a vision to create the largest public baths in the word, which he did. 7 pools of salt water. All heated to different levels. Afforadable for everyone. A seriously impressive building complex. Sadly, they were destroyed in 1966 by a fire. Looking back at photos, it's unfortunate that this is all that is left of the baths. This same spot used to look like this: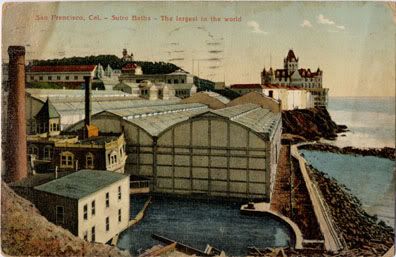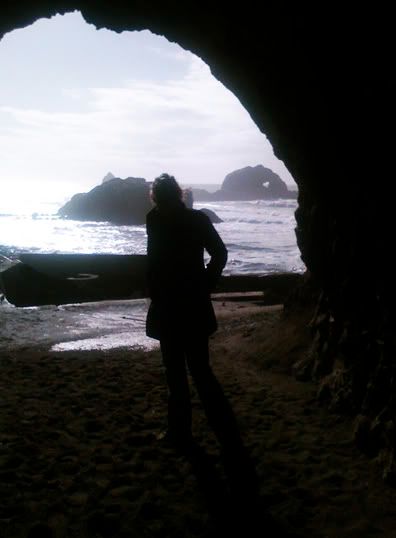 KKG walking out of a tunnel near the baths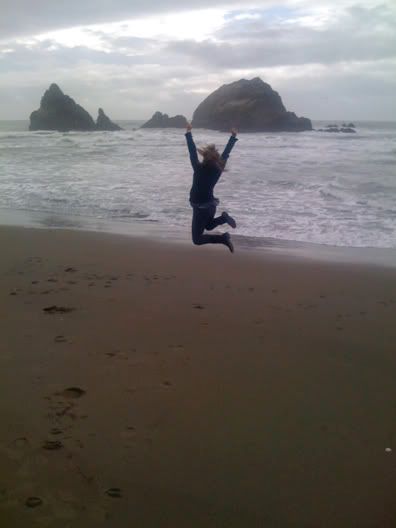 I'm not sure I realized how much my 3-year absence made me miss the coast until we got there.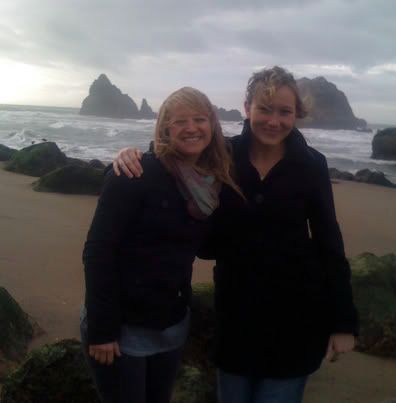 A nice man took this photo of Kristin and me after we explored the ruins.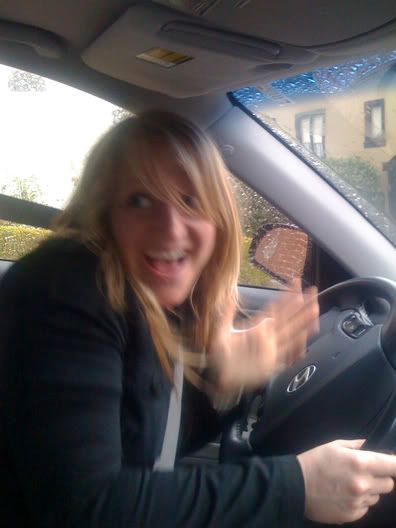 A blurry photo of me driving down Lombard Street.
We waited behind this trolley car for at least 3 minutes before we realized it was unmanned.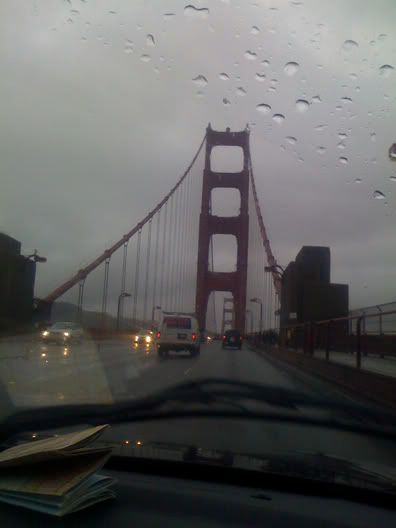 Rainy drive across the Golden Gate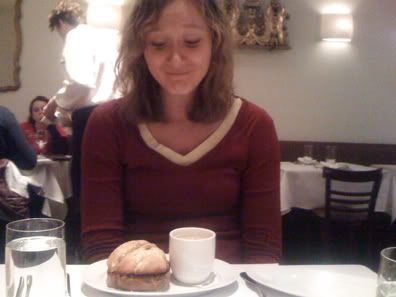 KKG admiring her dinner in Sausalito. The mater di had sat us next to a rustic fireplace to enjoy our meal. The ambiance was lovely, and the food was delicious. Talk about perfect. The restaurant, Il Piccolo Teatro, had launched a new menu the day we went, and to our delight it was cheaper than most of the restaurants on the street and super tasty. Plus, they stamp a handsome logo onto each of their white-paper table cloths; I wish I would have taken a picture -- it was a great touch. If ever you are in Sausalito, you know where to go.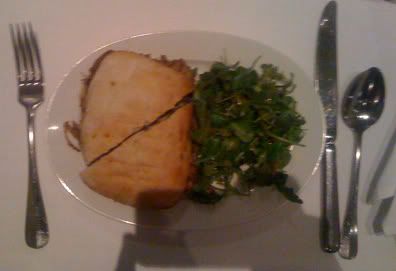 My meal at Il Piccolo Teatro.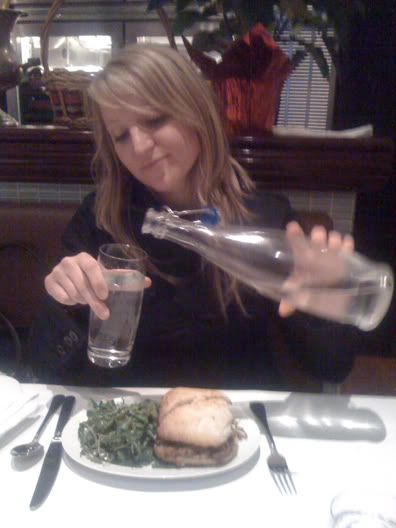 Me, pouring water at dinner. Obviously.
I really need a new camera...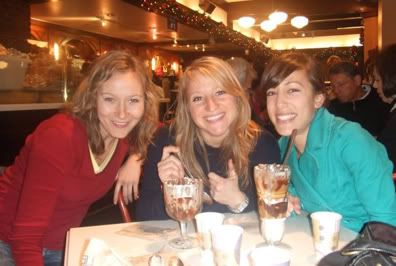 For dessert, we met up with Krissy (
right
) my neighbor last year, and one of my favorite people ever. Word to the wise, those desserts are RICH.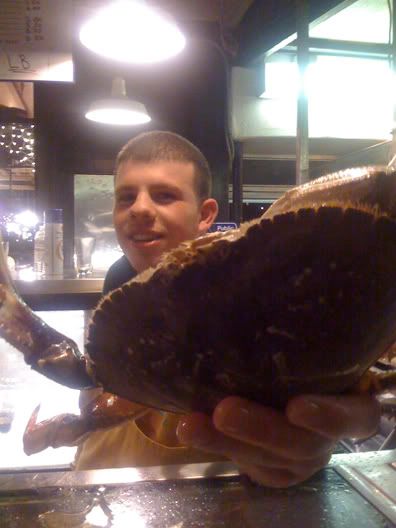 Sandro -- the cool guy at the Fisherman's Warf who gave me a crab leg for free.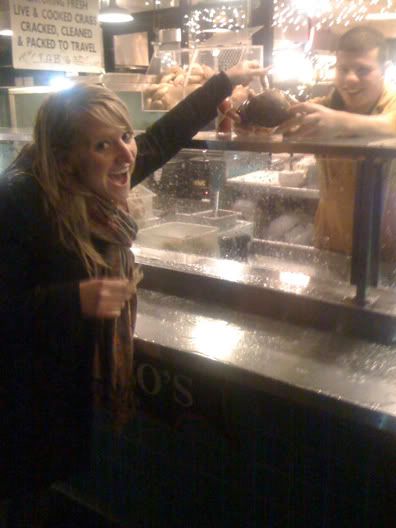 Sandro thought me taking a picture touching the live crab he was holding would be fun. See that expression on my face? Talk about fun.
He also told us a story about a man who tried to kiss one of the live crabs and ended up needing ten stitches in his lip.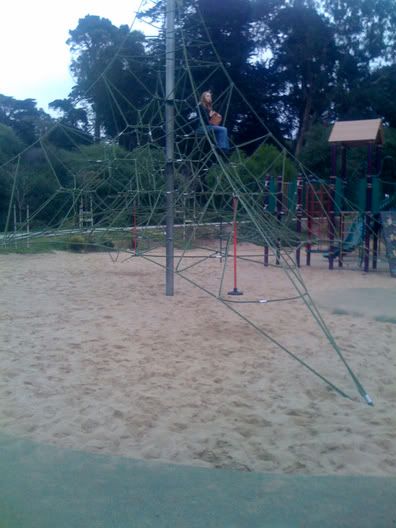 The ropey pyramid in Golden Gate park -- we stopped there for no less than seven minutes to climb it before we rushed to the airport (have no fear, after sprinting through the airport, I made my plane with at least two minutes to spare).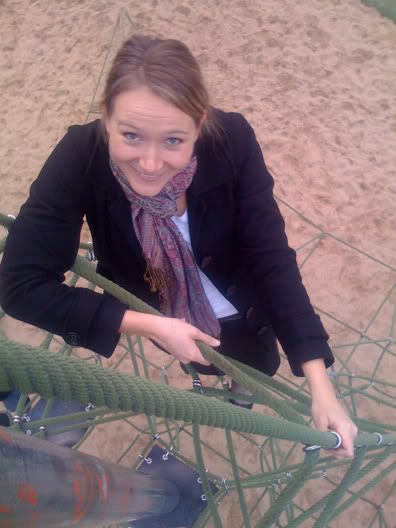 KKG from view of the top of the pyramid. We definitely sported our church clothes while we climbed this.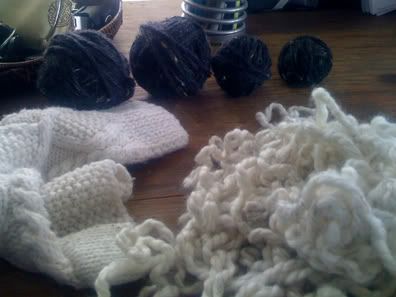 I crocheted a hat while I was there. No picture of the hat, but here's a shot of the materials sitting on KKG's desk.
Great trip. Great great trip. Great great great great great.