This year, the Schmidts decided to celebrate the holidays 9 days early. It was kind of nice -- minimal traveling traffic at the airports, cheaper air rates, and a couple free days on the actual holiday to relax around the house. Overall,it was a successful holiday -- my mom made piggies in a blanket "Christmas" morning, we opened half of our presents "Christmas Eve" to ensure we would have sufficient time the next morning to finish before church. My sister and brother-in-law blessed my niece Honor in church (it was great to have the while family there -- we took up two rows of the large benches). And I got two of the coolest gifts I have ever received -- from my mom I got a queen-size, hand-stiched quilt that I'm sure she spent countless hours on (it's beautiful, mom) and an awesome, homemade cutting board from my dad. He cut strips of three different colored woods then glued them together in a geometric pattern for each of the boards (all of the siblings got one), then finished them off by rounding the edges with a sander and screwing little rubber stopper feet on the bottom. It is about an inch and a half think, and it is sweet.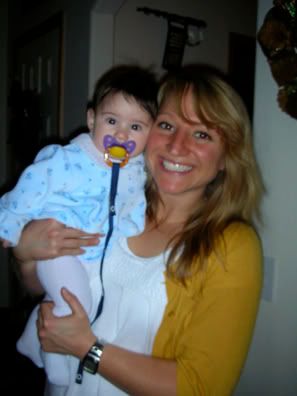 My niece Honor -- I met her for he first time on the trip. She was born in July.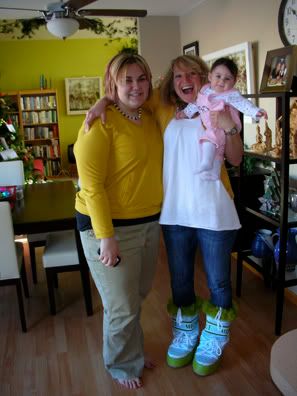 Me, Alaina (my nieces best friend and a Schmidt family member related by love) and Honor. Those super sick boots are Alaina's. She was kind enough to let me wear them for the picture.
My sweet dad and I - I just love him, and i just realized that I didn't take any pictures of my mom and I this trip...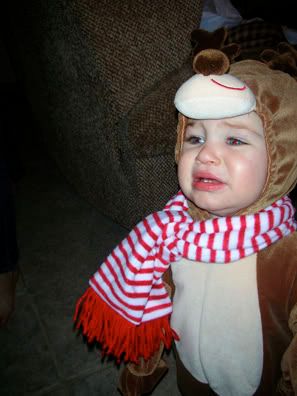 My brother put my niece in this getup, and she hated it, as you can see by the sad little expression and tears that she is wearing. As mean as it may sound, I can't help but laugh every time I see this picture.
The Schmidt family posing nicely -- I like that none of us are wearing shoes.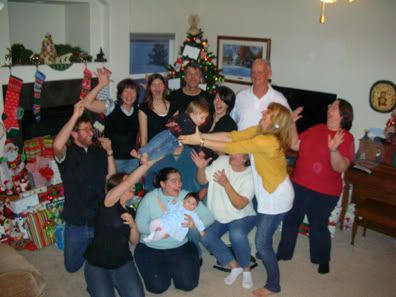 I announced that I wanted a silly photo of the family before we finished our photo session, and this is the result. My brother, Andy, told me he was going to trow my niece to me when the picture was being taken (despite my sister-in-law telling him not to) and the outcome is now one of my favorite family pictures we have ever taken. The candid reactions are priceless.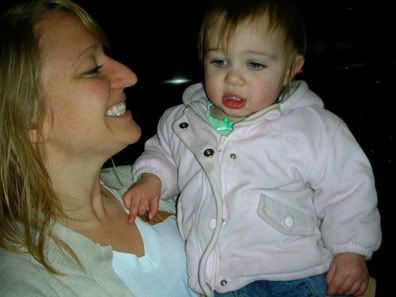 My brother and I left from neighboring gates at the Denver airport only a half an hour apart, so I got to hang out with the Seattle Schmidt's until their flight left. This is me and my niece, Anza. While this picture may not seem too exciting, I'd like you to note that Anza is flipping off the camera, that little devil. I bet she didn't think I would even notice.