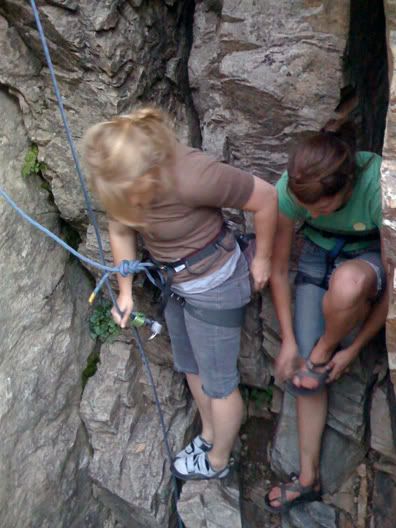 Climbing outside is a new-ish thing to me, so, as you could guess, I'm not super familiar with the outside climbing areas in the local canyons yet. Thankfully, when I went rock climbing with some buddies a few weeks ago, one of them left a guide book to the canyons in my car (which I have been using rather than returning. I should really give that back soon...) But it's been a total blessing.
Me, Katy and her friend/my new friend Holly, headed up Rock Canyon on Friday to check out some new areas and do a little climbing, thanks to the recently atypical beautiful weather. Our scouting of a new place, however, only yielded the discovery of a weenie climb we decided to forgo in hopes of finding a better one. Instead, we headed back to a familiar spot and did a new climb there.
The wall we hit was Green Monster, and we did the crack climb (totally ligit name) up it's face. For sure deemed as one of the best decisions of the day.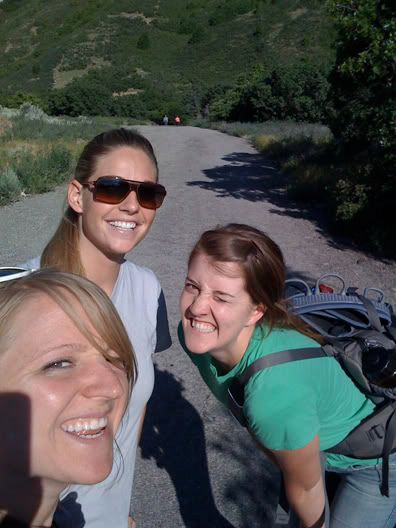 Me, Holly and Katy at the mouth of the Provo Canyon as we were hiking up.
Me and Kates trying to confirm the weenie route we saw on the rock with the corresponding weenie route in the book. I need to scout all the places soon so I don't need to carry around the newbie-identifying book anymore.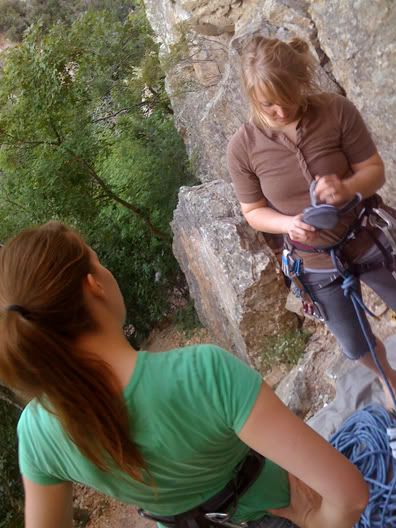 Gearing up after we left the lame climb and got to the Green Monster wall.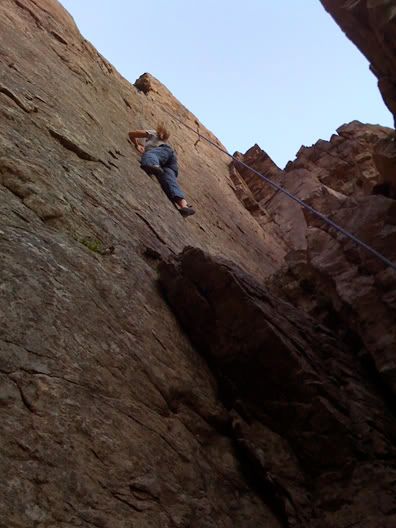 Holly was the first to try the Green Monster crack. She topped out right about here. But Holly doesn't climb. And we kinda made her try it. So I think that would count as "rocked it."
Break as Kates was putting on her shoes to climb the crack.
Kates killing it on the wall. She climbed second.
Kates killing it #2.
Nicki Schmidt belay (PS -- thank you Holly for taking no less that 141 pictures from our climbing caper. NOTE: I had written "climbing adventure" but thought adventure was a far-too-used word. Thank you Mac thesaurus for the "caper" suggestion instead).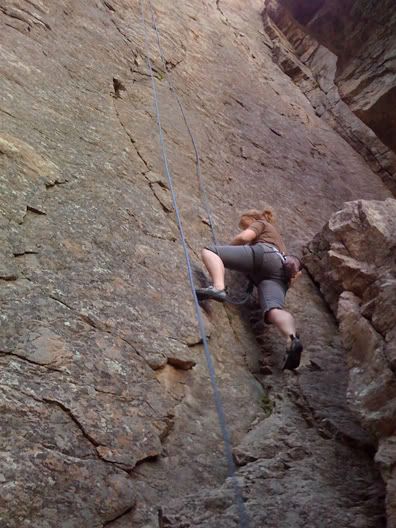 I climbed third. The start.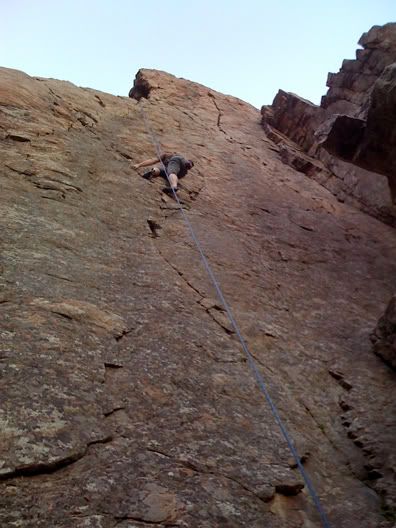 Nicki crossover towards the top.
And me and Kates walking out of the canyon after we packed up shop. NOTE: It was 9:20pm when this picture was taken. 9:20PM! Man I love summer! Too bad the days get shorter from now on. But, let it be said, I noted the abundance of light with thanks.